4x4 Parts -
FRONT BUMPERS
Browse FRONT BUMPERS
Products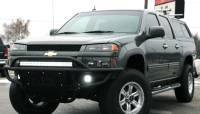 SOLD
2004-2012 Chevy Colorado & GMC Canyon
Description:
Designed for the Chevy Colorado or GMC Canyon, this bumper is a direct fit and requires no cutting or welding.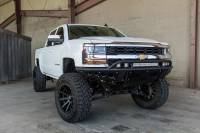 SOLD
2014-2016 Chevy Silverado 1500 & 2016 GMC Sierra 1500
Description:
Built with .120 wall steel tubing and 1/8" aluminum accent panels and skid plate. A universal light mount system inside the top hoop allows up to 10 cube lights or a single 40" radius LED bar to be...
More Details »